WELCOME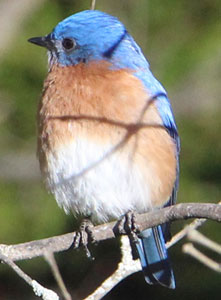 Welcome to the Quad City Audubon Society. A chapter of the National Audubon Society, we are an association of local volunteers whose primary concerns are birds and the habitats that sustain them.
Mission Statement
The Quad City Audubon Society (QCAS) is dedicated to the enjoyment of birds, a better understanding of the natural world, stewardship of natural areas and habitats, fellowship, improvement of community awareness of environmental issues, and education of youth for the benefit of future generations.
~~ Eastern Bluebird, photo by Dick Sayles
UPCOMING EVENTS
All events are open to the public:
---
August 17, Saturday ~ Cone March Field Trip - Meet at Casey's parking lot near Highway 61 and Interstate 280 at 7:00 a.m. Carpool to Cone Marsh. Half day trip. We hope to see shorebirds. Please check back here for potential changes.

August 17-18 ~ Bishop Hill Hummingbird Festival - August 17th at 5:30 p.m. An Intimate Evening with John James Audubon. A Dinner Theater Experience catered by PL Johnson's. Reservations Required. $30 per person. August 18th, 8:00 a.m. – 10:00 a.m. Birding with Audubon ($10 suggested donation) 12:00 – 4:00 Hummingbird Banding in the Prairie, Song Bird Banding near the Cemetery, and Hands-On Hummingbird Crafts for Kids; 12:30 Hummingbird Tales w/ Brian "Fox" Ellis; 1:30 Audubon's Hummingbird Stories; 2:30 Plein Air Art Exhibit and Awards Ceremony.

September 7, Saturday ~ Blackhawk State Park Field Trip - Meet at Singing Bird Lodge, Rock Island, IL at 8:00 a.m. Half day field trip. Fall migration!