WELCOME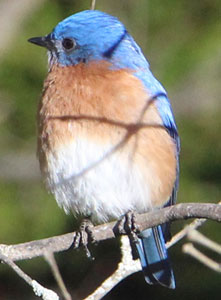 Welcome to the Quad City Audubon Society. A chapter of the National Audubon Society, we are an association of local volunteers whose primary concerns are birds and the habitats that sustain them.
Mission Statement
The Quad City Audubon Society (QCAS) is dedicated to the enjoyment of birds, a better understanding of the natural world, stewardship of natural areas and habitats, fellowship, improvement of community awareness of environmental issues, and education of youth for the benefit of future generations.
~~ Eastern Bluebird, photo by Dick Sayles
UPCOMING EVENTS
All events are open to the public:
---
November 16, Saturday ~ Lock and Dam 13 and Spring Lake. Meet at Brothers Restaurant, Rapids City, IL at 7:00 a.m.

December 12, Thursday - Monthly Meeting ~ One of our own members, Janet Moline, a retired biologist, will present a program entitled "Penguins---brrr". She will share photos and information from her trips to New Zealand and South Africa. Plus, this is also our annual pie night, so after the
program, we will adjourn to the dining room for pie, coffee and conversation. If possible, bring your favorite pie to share.

Christmas Bird Count - Audubon Christmas Counts fall between December 14 and January 5 inclusive. Count dates for 2019 have yet to be scheduled. Traditionally the Quad City Christmas Count has been the first Sunday of the count period, which this year would be December 15. The count circle is 15 miles in diameter and roughly centers on the I-74 bridge. Other local count circles include Lost Nation, Clinton/Savanna, Princeton/Camanche, Eastern Mercer County, Western Mercer County, Andalusia, Muscatine and Sterling.
Field Parties are assigned to cover areas within each count circle. To join a field party or to conduct a feeder count within a count circle, contact Kelly McKay at 309-794-5248.

January 10 - 12, 2020 ~ Bald Eagles Days ~ At our December meeting we will have a sign up sheet for members to lead tours. Mark your calendars!