Calendar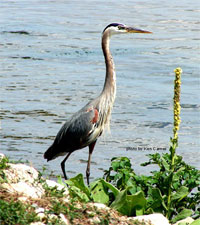 Monthly Membership Meetings
Quad City Audubon Society holds monthly membership meetings from September through May, on the second Thursday of the month beginning at 7:00 p.m. at the Butterworth Center, 1105 8th Street, Moline. Every meeting includes a presentation on a natural history or conservation topic. Topics run the gamut from butterflies to endangered ocean life, to ice-age geology, and, of course, birds. Birding presentations span the globe from the Arctic to the Antarctic, with stops in the tropics, and the Midwest.
Monthly meetings will be on the second Thursday May, September, October and December of 2019 at 7:00 pm, Butterworth Center, 1105 8th Street, Moline, IL.
May 4, Saturday ~ Illinois Spring Bird Count - QC Audubon has coordinated efforts in Rock Island County. In addition, QCAS members have also provided individuals to count Henry and Mercer counties as well. For further information, contact Tim Murphy 309-764-9779. The Illinois Spring Bird Count is coordinated statewide by the Illinois Natural History Survey and additional information can be obtained at http://wwx.inhs.illinois.edu/ collections/ birds/sbc/.
May 9, Thursday, Monthly Meeting ~ Our speaker is Jill Schmidt, a Naturalist with the Clinton County Conservation Board and the title of her presentation is "Going bats for Bats."
May 11, Saturday ~ Dorrance County Park, Illiniwek Forest Preserve ~ We will meet at 7 am at the south trailhead off Route 84 at Illiniwek Forest Preserve, (bluff side parking lot). We will bird for a brief time at Illiniwek and then head to the north end of Port Byron, IL to focus on Dorrance Park. This will be a half-day trip.
May 11, Saturday ~ Non-Audubon event at Port Louisa NWR, Iowa ~ Join Refuge staff and the Friends of Port Louisa NWR for a Spring Bird Festival, 7 am - 11 am: Songbird banding 7 am to 11 am, Refuge staff and trained volunteers will band birds; bird walk 7 am, all are welcome to join David Griffin on a hike along the nature trail in the forest and along Muscatine Slough to look for birds. This is a great opportunity to see birds up close and learn about banding. 9:00 am: Bring the family and join Bobbi Provost to explore the nature trail for birds. Visit their website at https://www.fws.gov/refuge/port_louisa/
June 1, Saturday ~ Savanna/Mississippi Palisades ~ Meet at the Brothers Restaurant in Rapids City at 6 am. Jody Millar and Janelle Swanberg will lead this all day field trip.
An archive of monthly membership meetings, field trips and special events from past years can be viewed here: Calendar Archives
Acknowledgment: photo by Ken Carnes