Calendar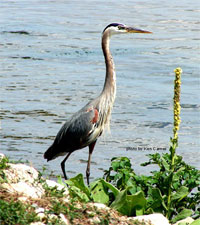 Monthly Membership Meetings
Quad City Audubon Society holds monthly membership meetings from September through May, on the second Thursday of the month beginning at 7:00 p.m. at the Butterworth Center, 1105 8th Street, Moline. Every meeting includes a presentation on a natural history or conservation topic. Topics run the gamut from butterflies to endangered ocean life, to ice-age geology, and, of course, birds. Birding presentations span the globe from the Arctic to the Antarctic, with stops in the tropics, and the Midwest.
Monthly meetings will be on the second Thursday: March 12, April 9, May 14, September 10, October 8 and December 10 of 2020 at 7:00 pm, Butterworth Center, 1105 8th Street, Moline, IL.
May 9th, 2020, Saturday. Illinois Spring Bird Count. Join us for this annual survey of spring birds in our area. We need volunteers in Rock Island and Mercer County, Illinois to cover field parties. Contact Tim Murphy to participate: 309-764-9779.
May 9, 2020, Saturday - Global Big Day. Look for birds and report what you see - in your backyard, neighborhood, or favorite spots - then share your list with ebird. For more information, check out this web site. https://ebird.org/news/global-big-day-9-may-2020
June 6th, 2020, 7:00 a.m., Saturday - PLEASE NOTE CHANGE: Field Trip, Illiniwek Forest Preserve, Hampton, Illinois, and Dorrance Park, Port Byron, Illinois. Meet on the bluff side of Illiniwek Park for this half day field trip. We will be practicing social distancing while looking for resident birds and late migrants. We will be driving our own vehicles between Illiniwek and Dorrance Parks.
An archive of monthly membership meetings, field trips and special events from past years can be viewed here: Calendar Archives
Acknowledgment: photo by Ken Carnes 

The Quad City Audubon Society (QCAS) is dedicated to the enjoyment of birds, a better understanding of the natural world, stewardship of natural areas and habitats, fellowship, improvement of community awareness of environmental issues, and education of youth for the benefit of future generations.