WELCOME
Welcome to the Quad City Audubon Society. A chapter of the National Audubon Society, we are an association of local volunteers whose primary concerns are birds and the habitats that sustain them.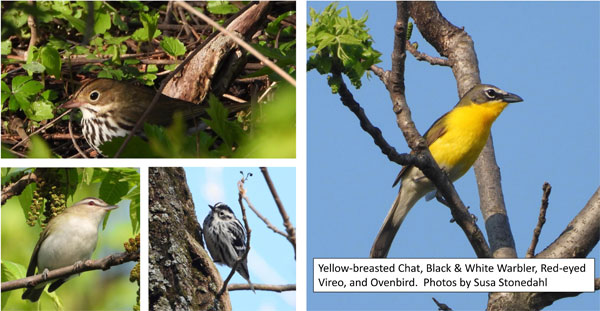 Mission Statement
The Quad City Audubon Society (QCAS) is dedicated to the enjoyment of birds, a better understanding of the natural world, stewardship of natural areas and habitats, fellowship, improvement of community awareness of environmental issues, and education of youth for the benefit of future generations.
UPCOMING EVENTS
All events are open to the public:
---
Starting June 18, 2022, Wings Over Water - Peoria Riverfront Museum, Giant Screen Theatre.
Wings Over Water tells the story of the epic journeys of three amazing bird families – the Sandhill Crane, the Yellow Warbler and the Mallard Duck – with extraordinary footage of their fascinating behaviors.
Audiences will be captivated by the triumphs and challenges of these remarkable creatures that defy all odds and soar across mountains, deserts, cities and forests as they head home to raise their young.
For more information, see their website.
Sunday June 5th, 2022 - Mississippi Palisades. This is an all-day event. Those interested in attending should meet at Shuler's Shady Grove Park/boat ramp in Rapids City at 6:00 am. Carpooling will be at discretion of participants. This has typically yielded good views of Yellow-throated, Parula, Kentucky, Cerulean Warblers and many other species.
Friday June 24-Saturday June 25— Bioblitz, Sunderbruch Park 4675 Telegraph Road, and Fairmont Cemetery, Davenport, Iowa. CALLING ALL CITIZEN SCIENTISTS! Put your species identification skills to the test and help us find as many species as possible during this 24 hour event! Partner with an expert to learn local flora and fauna. Fun for all ages! FREE PUBLIC ACTIVITIES! • GUIDED HIKES • NATURE TALKS • INTERACTIVE NATURE STATIONS • & MORE!