Calendar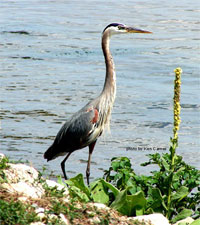 Monthly Membership Meetings
Quad City Audubon Society holds monthly membership meetings from September through May, on the second Thursday of the month beginning at 7:00 p.m. at the Butterworth Center, 1105 8th Street, Moline. Every meeting includes a presentation on a natural history or conservation topic. Topics run the gamut from butterflies to endangered ocean life, to ice-age geology, and, of course, birds. Birding presentations span the globe from the Arctic to the Antarctic, with stops in the tropics, and the Midwest.
Friday - Sunday, September 16 - 18.  The annual Iowa Ornithological Union (IOU) fall meeting will be held in the Quad Cities this year! Registration and Social will be 5-8 PM on Friday September 16, 2022.
Field Trips will include Nahant Marsh, Princeton Marsh, Wildcat Den.  Field trip leaders include Susan Nixon, Brian Peer, Brian Ritter and James Wiebler.
For additional information and a link to registration, see: https://iowabirds.org/IOU/Meetings/NextMeeting.aspx
Thursday, October 13, 2022. 7:00 pm. Public Meeting via Zoom. The Geography of Grassland Bird Conservation: How International Bird Conservation Efforts are Linked to Actions in Your Backyard
James J. Giocomo, PhD, Central Region Director, American Bird Conservancy - Jim will talk about how large-scale continental and national grassland bird planning and population monitoring, supports medium-scale regional and state bird conservation, though local scale management decisions. Jim will also talk about how you can contribute to grassland bird monitoring and conservation in your backyard and neighborhood. Hint, if you are using ebird, you are already contributing! October Meeting Zoom Link: https://wiu.zoom.us/j/99922389028
Saturday, October 15, 2022. Field trip to Sunderbruch park and Fairmount Cemetery. Meet at the Sunderbruch main parking lot at 8:00 am.
Saturday, November 12, 2022. Field trip to observe migrating waterfowl. Meet at Shuler's Shady Grove Park/boat ramp in Rapids City, IL at 8:00 am.
Thursday, December 8, 2022. Public Meeting 7:00 pm – Pie Night, Butterworth Center. Folks may bring pie to share, or just join in the fun. Program speaker to be announced. Please watch our web page for more information.
January 6-8, 2023— Bald Eagle Days at the QC Expo Center, Rock Island, IL. Looking for volunteers to help participants observe Bald Eagles. If interested, contact us at QCAudubon@gmail.com
February 11, 2023 - Smith Island, Lock & Dam 14 winter walk with Dr. Brian Peer, 9:00 am, Lock & Dam 14 parking lot, LeClaire, Iowa.
March 11, 2023 - Princeton Wildlife Management Area spring waterfowl walk. Meet at the Princeton Wildlife Management Area boat ramp (south end of management area) 8:00 am. For questions contact QCAudubon@gmail.com
An archive of monthly membership meetings, field trips and special events from past years can be viewed here: Calendar Archives
Acknowledgment: photo by Ken Carnes