Calendar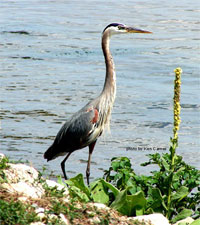 Monthly Membership Meetings
Quad City Audubon Society holds monthly membership meetings from September through May, on the second Thursday of the month beginning at 7:00 p.m. at the Butterworth Center, 1105 8th Street, Moline. Every meeting includes a presentation on a natural history or conservation topic. Topics run the gamut from butterflies to endangered ocean life, to ice-age geology, and, of course, birds. Birding presentations span the globe from the Arctic to the Antarctic, with stops in the tropics, and the Midwest.
April 12—Monthly Meeting: Just in time for spring migration! Jessica Bolser, Wildlife Biologist from Port Louisa NWR will give a presentation on warblers. Whether you are a new birder or an experience birder wanting a refresher, you will enjoy this presentation.
April 21—Saturday, Crow Creek Park, Bettendorf, Iowa: Meet at the quarry parking lot at 7:30 am. Half day trip.
May 5—Saturday, 59th Annual Illinois Spring Bird Count: A person could count a local park, their neighborhood or simply count the birds coming to their feeders. For further information, contact Tim Murphy 309-764-9779.
May 10—Monthly Meeting: Mark Bowman will present a program about bird banding, the purposes and rewards of banding, and discuss a new banding program he has set up at Neal Smith NWR.
June, 2--- World Migratory Bird Day:
Bird Hikes in Illinois and Iowa: Sylvan Island, 6:30-8:30am at the Sylvan Island Pedestrian Bridge, 1st Avenue and 2nd Street, Moline, IL.  Guided bird hike with Kelly McKay. Nahant Marsh, 6:30-8:30am at Nahant Marsh Education Center, 4220 Wapello Avenue, Davenport, Iowa. Guided bird hike with Brian Ritter.
An archive of monthly membership meetings, field trips and special events from past years can be viewed here: Calendar Archives
Acknowledgment: photo by Ken Carnes 
The Quad City Audubon Society (QCAS) is dedicated to the enjoyment of birds, a better understanding of the natural world, stewardship of natural areas and habitats, fellowship, improvement of community awareness of environmental issues, and education of youth for the benefit of future generations.