Calendar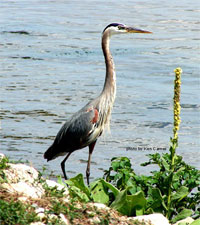 Monthly Membership Meetings
Quad City Audubon Society holds monthly membership meetings from September through May, on the second Thursday of the month beginning at 7:00 p.m. at the Butterworth Center, 1105 8th Street, Moline. Every meeting includes a presentation on a natural history or conservation topic. Topics run the gamut from butterflies to endangered ocean life, to ice-age geology, and, of course, birds. Birding presentations span the globe from the Arctic to the Antarctic, with stops in the tropics, and the Midwest.
November 9—Monthly Meeting
Jim Frink, local naturalist, will give a presentation on, Wild Things. Be treated to Jim's vast knowledge base on local flora and fauna including: reptiles, snakes, flowers, insects, and mushrooms!
November 19—Sunday - Lock & Dam 13 Field Trip
This area is near Thomson, Illinois. Meet at 7:00 am at The Brother's Restaurant parking lot in Rapid City, Illinois. Waterfowl migration time.
December - Audubon Christmas Bird Count
Join one or more bird-counting groups. Contact Kelly McKay at 309-235-4661 or any Audubon Board Member for more information.
December 14—Monthly Meeting
Jon Duyvejonk, retired biologist with the US Fish & Wildlife Service, will discuss,
Mississippi Mussels and their Ecological Benefit. (NOTE: this is our traditional pie night. This Meeting will be held at Deere-Wiman House, 1105 8th Street, Moline Illinois instead of Butterworth for this night only).
January 5-7—Bald Eagle Days: The 31st annual Bald Eagle Days held at the QC Expo Center, Rock Island, IL., 4pm- 8 pm Friday; 10 am-8 pm Saturday, and 10 am-5 pm Sunday. QCAS will again be hosting a booth and guiding Bald Eagle watching bus tours. Volunteers needed; contact any Board Member.
January 11—Monthly Meeting: Kelly McKay will discuss his experiences with the Christmas Bird Count and the first full Christmas Bird Count Marathon. Kelly is an expert birder and always has interesting information to share. He is the Director of the BioEco Research and Monitoring Center and performs contracted field studies.
February 8—Monthly Meeting: Randy Nyboer is a Botonist and Field Biologist with the Illinois Natural History Survey and retired from the Illinois Department of Conservation. He is very knowledgeable about Illinois Natural Areas and will be speaking on "Native Plants". You won't want to miss Randy's presentation!
An archive of monthly membership meetings, field trips and special events from past years can be viewed here: Calendar Archives
Acknowledgment: photo by Ken Carnes