Calendar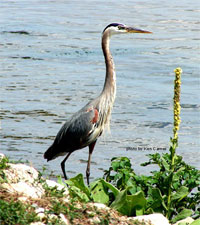 Monthly Membership Meetings
Quad City Audubon Society holds monthly membership meetings from September through May, on the second Thursday of the month beginning at 7:00 p.m. at the Butterworth Center, 1105 8th Street, Moline. Every meeting includes a presentation on a natural history or conservation topic. Topics run the gamut from butterflies to endangered ocean life, to ice-age geology, and, of course, birds. Birding presentations span the globe from the Arctic to the Antarctic, with stops in the tropics, and the Midwest.
October 12—Monthly Meeting
Doug Harr, President and Chief Operating Officer of Iowa Audubon and former
State Coordinator of the Iowa DNR's Wildlife Diversity Program will speak on Bird Friendly Iowa. He will tell about this multi-partner program and what it takes to be designated a bird friendly city.
October 21—Saturday - Smith's Island Field Trip
Smith's Island is near Lock & Dam 14 on the Iowa side. Meet at 7:00 am in the parking lot of Lock & Dam 14, south of LeClaire, Iowa. Half day trip.
November 9—Monthly Meeting
Jim Frink, local naturalist, will give a presentation on, Wild Things. Be treated to Jim's vast knowledge base on local flora and fauna including: reptiles, snakes, flowers, insects, and mushrooms!
November 19—Sunday - Lock & Dam 13 Field Trip
This area is near Thomson, Illinois. Meet at 7:00 am at The Brother's Restaurant parking lot in Rapid City, Illinois. Waterfowl migration time.
December - Audubon Christmas Bird Count
Join one or more bird-counting groups. Contact Kelly McKay at 309-235-4661 or any Audubon Board Member for more information.
December 14—Monthly Meeting
Jon Duyvejonk, retired biologist with the US Fish & Wildlife Service, will discuss,
Mississippi Mussels and their Ecological Benefit. (NOTE: this is our traditional pie night. This Meeting will be held at Deere-Wiman House, 1105 8th Street, Moline Illinois instead of Butterworth for this night only).
An archive of monthly membership meetings, field trips and special events from past years can be viewed here: Calendar Archives
Acknowledgment: photo by Ken Carnes 
The Quad City Audubon Society (QCAS) is dedicated to the enjoyment of birds, a better understanding of the natural world, stewardship of natural areas and habitats, fellowship, improvement of community awareness of environmental issues, and education of youth for the benefit of future generations.