Calendar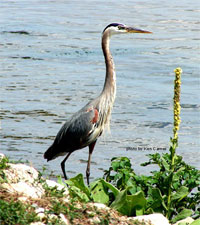 Monthly Membership Meetings
Quad City Audubon Society holds monthly membership meetings from September through May, on the second Thursday of the month beginning at 7:00 p.m. at the Butterworth Center, 1105 8th Street, Moline. Every meeting includes a presentation on a natural history or conservation topic. Topics run the gamut from butterflies to endangered ocean life, to ice-age geology, and, of course, birds. Birding presentations span the globe from the Arctic to the Antarctic, with stops in the tropics, and the Midwest.
August 19, Saturday— Port Louisa National Wildlife Refuge Field Trip. Meet at Credit Island Lodge 7:00 a.m. Carpool to Port Louisa NWR Headquarters at 10728 County Road X61, Wapello, Iowa 52653. The refuge will be open for the QCAS tour and a staff guide will assist us. Half day trip. We hope to see
shorebirds.
September 14, Thursday, Quad City Audubon regular montly meeting at 7:00pm, Butterworth Center, 1105 8th Street, Moline, IL.The meeting will include a presentation by Betsy Bainbridge, U.S. Fish and Wildlife Service, on Cheyenne Bottoms. Cheyenne Bottoms is the largest marsh in the interior of the United States and was designated a Wetland of International Importance in 1988 by the Ramsar Convention on Wetlands. The area is considered the most important shorebird migration point in the western hemisphere. The public is invited; there is no charge.
September 16, Saturday, Wild Cat Den State Park Field Trip. Meet at Credit Island Lodge at 7:00 a.m. Carpool to Wild Cat Den State Park near Muscatine,
Iowa. Half day trip. Fall migration! 
An archive of monthly membership meetings, field trips and special events from past years can be viewed here: Calendar Archives
Acknowledgment: photo by Ken Carnes 
The Quad City Audubon Society (QCAS) is dedicated to the enjoyment of birds, a better understanding of the natural world, stewardship of natural areas and habitats, fellowship, improvement of community awareness of environmental issues, and education of youth for the benefit of future generations.