Contact Us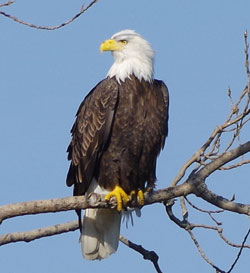 Experience tells us that some of the best ideas have come from you - our users. Tell us what you think about our organization, about our web site, what new features you would like to see, or anything else that comes to mind. All of your comments and suggestions are welcome.
Officers
President
Jody Millar - 2020
Vice President
Bernadene Bowles - 2020
Treasurer
Vacant
Secretary
Cathy White - 2021
Board Members
Tim Murphy - 2020
Brian Peer - 2021
Janelle Swanberg - 2021
Teri & Sherif Ragheb - 2020
Committee Chairs
Conservation - Vacant
Field Trips - Board Members
Membership - Vacant
Newsletter - Jason Monson
jmonson75@hotmail.com
Publicity - Vacant
Mississippi Currents is published quarterly by the Quad City Audubon Society P.O. Box 81 Bettendorf, IA 52722 www.quadcityaudubon.org Direct all general emails to: qcaudubon@gmail.com
~~ Bald Eagle, photo by Jody Millar
The Quad City Audubon Society (QCAS) is dedicated to the enjoyment of birds, a better understanding of the natural world, stewardship of natural areas and habitats, fellowship, improvement of community awareness of environmental issues, and education of youth for the benefit of future generations.
UPCOMING EVENTS
All events are open to the public:
---
May 6, Illinois Spring Bird Count.  See article newsletter.  Contact Tim Murphy 309-764-9779 or for further information. https://spring-bird-count.inhs.illinois.edu/  Coordinated by Illinois Natural History Survey.
---
May 6 Earth Day Recognized. Farmers Market Freight House, Davenport 8:00am-2:00pm.
---
May 11, Membership Meeting. A Program "Birding South Texas" by Dick Sayles will be presented. Dick is the Vice-President of Iowa Ornithologist's Union and past President Quad City Audbuon. He has been traveling to Rio Grande Valley region of South Texas for the past several winters. The Rio Grande Valley is a nationwide hotspot for winter birds in the United States. In addition to describing the birds seen one will be able to get an idea of how to bird the area.
---
Field Trip, Saturday May 13, 2023. Dorrance and Illiniwek Parks. Meet at the ball diamond parking lot at Dorrance Park, Port Byron, IL 7:00am. This field trip has yielded outstanding numbers of migrating and breeding warblers, tanagers, orioles and woodpeckers. For questions contact QCAudubon@gmail.com
Field Trip, Sunday June 4, 2023 Field Trip Mississippi Palisades State Park and Lost Mound National Wildlife Refuge. This is an all day trip that features late waterfowl, breeding warblers, grassland birds. The all day trip includes a stop for lunch. Meet at Shulers Shady Grove Park, Rapids City 6:00am for carpooling. For questions contact QCAudubon@gmail.com