Resources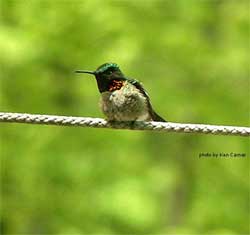 Members' Picks: Quad City Birding Spots
Illinois Audubon Society 
(www.illinoisaudubon.org)
Iowa Audubon 
(www.iowaaudubon.org)
National Audubon Society 
(www.audubon.org)
Iowa Ornithologists' Union ** 
(www.iowabirds.org)
Cornell Lab of Ornithology 
(www.birds.cornell.edu)
All About Birds 
(www.birds.cornell.edu/programs/AllAboutBirds) 
U.S. Fish & Wildlife Service 
(www.fws.gov)
Quad Cities Earth Week Coalition 
(www.qcearthweek.org)
IBET (Illinois Birders Exchanging Thoughts) ** 
(www.groups.yahoo.com/group/ILbirds)
Iowa Breeding Bird Atlas 
(bba.iowabirds.org)
The Great Backyard Bird Count 
(www.birdsource.org/gbbc/)
American Birding Association 
(www.aba.org/birding/)
** These web sites allow you to see bird sightings from around the state.
They also allow you to join their bulletin boards and report your own sightings.
The Quad City Audubon Society (QCAS) is dedicated to the enjoyment of birds, a better understanding of the natural world, stewardship of natural areas and habitats, fellowship, improvement of community awareness of environmental issues, and education of youth for the benefit of future generations.