Submit Bird Sightings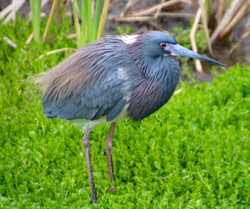 If you would like to submit a bird sighting, or if you have a question or comment, please fill out the form below. For questions, you will get an email from Walt Zuurdeeg, waltzuurdeeg@mediacombb.net, which may go to your trash or junk folder, so check those folders if you do not receive a response in your inbox.
There are web sites for Illinois and Iowa where you can see bird sightings from around the state. They also allow you to join their bulletin board and report your sightings.
For Illinois go to IBET (Illinois Birders Exchanging Thoughts).
For Iowa go to Iowa Ornithologists' Union IA-Bird Listserv.
| | |
| --- | --- |
| First Name: | |
| Last Name: | |
| Address: | |
| City: | |
| State: | |
| Zip Code: | |
| Phone with area code: | |
| Email Address: | |
Upload a photo of the sighting:


Enter your bird sighting or question here: 



(Type the word shown above)
Photo by Dick Sayles
Tricolored Heron
Port Aransas, Texas
The Quad City Audubon Society (QCAS) is dedicated to the enjoyment of birds, a better understanding of the natural world, stewardship of natural areas and habitats, fellowship, improvement of community awareness of environmental issues, and education of youth for the benefit of future generations.
UPCOMING EVENTS
All events are open to the public:
---
July 9, Sunday—Lyndon Prairie Work (1/2) Day. Sunday July 9th is the annual Lyndon-Agnew Work Party to remove sweet clover from the native prairie in
Whiteside County. This is a high quality tall grass prairie but it needs help to preserve it. The work is not hard but it is often very hot as we wade into the unshaded grasses to remove sweet clover by either cutting or digging. Long- sleeved shirts, long pants, gloves and a hat are strongly advised as is sunscreen and insect repellant. We generally work from about 8:00 to 11:00 a.m. and return around noon. Those interested in attending should meet for carpooling at Jewel Grocery in Silvis, on John Deere Road at 7:00 a.m.
August 19, Saturday— Port Louisa National Wildlife Refuge Field Trip. Meet at Credit Island Lodge 7:00 a.m. Carpool to Port Louisa NWR Headquarters at 10728 County Road X61, Wapello, Iowa 52653. The refuge will be open for the QCAS tour and a staff guide will assist us. Half day trip. We hope to see
shorebirds.
September 16, Saturday, Wild Cat Den State Park Field Trip. Meet at Credit Island Lodge at 7:00 a.m. Carpool to Wild Cat Den State Park near Muscatine,
Iowa. Half day trip. Fall migration!
.