Submit Bird Sightings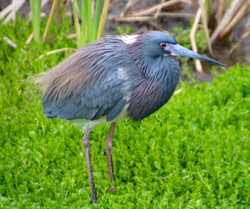 If you would like to submit a bird sighting, or if you have a question or comment, please fill out the form below. For questions, you will get an email from Walt Zuurdeeg, waltzuurdeeg@mediacombb.net, which may go to your trash or junk folder, so check those folders if you do not receive a response in your inbox.
There are web sites for Illinois and Iowa where you can see bird sightings from around the state. They also allow you to join their bulletin board and report your sightings.
For Illinois go to IBET (Illinois Birders Exchanging Thoughts).
For Iowa go to Iowa Ornithologists' Union IA-Bird Listserv.
| | |
| --- | --- |
| First Name: | |
| Last Name: | |
| Address: | |
| City: | |
| State: | |
| Zip Code: | |
| Phone with area code: | |
| Email Address: | |
Upload a photo of the sighting:


Enter your bird sighting or question here: 



(Type the word shown above)
Photo by Dick Sayles
Tricolored Heron
Port Aransas, Texas
The Quad City Audubon Society (QCAS) is dedicated to the enjoyment of birds, a better understanding of the natural world, stewardship of natural areas and habitats, fellowship, improvement of community awareness of environmental issues, and education of youth for the benefit of future generations.
UPCOMING EVENTS
All events are open to the public:
---
November 9—Monthly Meeting: Jim Frink, local naturalist, will give a presentation on "Wild Things". Be treated to Jim's vast knowledge base on local flora and fauna including reptiles, snakes, flowers, insects, and mushrooms!
November 19—Sunday - Lock & Dam 13 Field Trip. This area is near Thomson, Illinois. Meet 7:00 am at The Brother's Restaurant parking lot in Rapids City, Illinois. Waterfowl migration time.
December - Audubon Christmas Bird Count: Join one or more bird-counting groups in Iowa or Illinois. Contact Kelly McKay at 309-235-4661 or any Audubon Board Member for more information.
December 14—Monthly Meeting: Jon Duyvejonk, retired biologist with the US Fish & Wildlife Service, will discuss, Mississippi Mussels and their Ecological Benefit. (NOTE: this is our traditional pie night. This meeting will be held at Deere-Wiman House, 817 11th Avenue, Moline Illinois instead of Butterworth for this night only). After this program, we will move to the dining room for our annual pie night, where we will share conversation, pie and coffee. Bring a pie if desired!