Submit Bird Sightings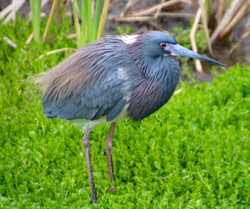 If you would like to submit a bird sighting, or if you have a question or comment, please fill out the form below. For questions, you will get an email from Walt Zuurdeeg, waltzuurdeeg@mediacombb.net, which may go to your trash or junk folder, so check those folders if you do not receive a response in your inbox.
There are web sites for Illinois and Iowa where you can see bird sightings from around the state. They also allow you to join their bulletin board and report your sightings.
For Illinois go to IBET (Illinois Birders Exchanging Thoughts).
For Iowa go to Iowa Ornithologists' Union IA-Bird Listserv.
| | |
| --- | --- |
| First Name: | |
| Last Name: | |
| Address: | |
| City: | |
| State: | |
| Zip Code: | |
| Phone with area code: | |
| Email Address: | |
Upload a photo of the sighting:


Enter your bird sighting or question here: 



(Type the word shown above)
Photo by Dick Sayles
Tricolored Heron
Port Aransas, Texas
The Quad City Audubon Society (QCAS) is dedicated to the enjoyment of birds, a better understanding of the natural world, stewardship of natural areas and habitats, fellowship, improvement of community awareness of environmental issues, and education of youth for the benefit of future generations.
UPCOMING EVENTS
All events are open to the public:
---
January 5-7—Bald Eagle Days: The 31st annual Bald Eagle Days held at the QC Expo Center, Rock Island, IL., 4pm-8 pm Friday; 10 am-8 pm Saturday, and 10 am-5 pm Sunday. QCAS will again be hosting a booth and guiding Bald Eagle watching bus tours. Volunteers needed; contact any Board Member.
January 11—Monthly Meeting: Kelly McKay will discuss his experiences with the Christmas Bird Count and the first full Christmas Bird Count Marathon. Kelly is an expert birder and always has interesting information to share. He is the Director of the BioEco Research and Monitoring Center and performs contracted field studies.
February 8—Monthly Meeting: Randy Nyboer is a Botanist and Field Biologist with the Illinois Natural History Survey and retired from the Illinois Department of Conservation. He is very knowledgeable about Illinois Natural areas and will be speaking on "Native Plants". You won't want to miss Randy's presentation!
February 17—Sunderbruch Park: Meet at 9:00 am in parking lot. Address: 4675 Telegraph Rd., Davenport, IA. Birding and attaching blue bird houses to metal poles. Half day trip.
March 8—Monthly Meeting: Carole Teator is an Eastern Iowa Manager of the Iowa Natural Heritage Foundation. She will speak about what this organization works on and how Audubon member can help.
March 24—Cone Marsh: Meet at Credit Island Lodge at 8 am to car pool. We will look for waterfowl migration.